Lola rennt
---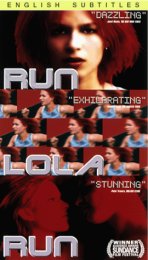 Jeden Tag, jede Sekunde, triffst Du eine Entscheidung, die Dein Leben verändern kann.
I once saw a Simpsons episode titled Trilogy of Error, which has been called a parody of Run, Lola, Run. I wouldn't exactly call it a parody, but it was certainly influenced by Lola. Rather than showing several versions of the same timespan slightly altered, it shows the same timespan as viewed by different Simpsons characters. More significantly, it has that element of people known to one another influencing each other unknowingly. Anyway, check out the background music when Lisa tries to get to school. Run, Lisa, Run!
Much later I saw an episode of Early Edition that was like a combination of Run, Lola, Run and Groundhog Day— Episode #410, titled Run, Gary, Run, first aired on 18 December 1999, though I didn't see it until 17 February 2004. It had the running and the trains and the clocks, but also the main character waking up every morning and correcting the mistakes that he'd made on the "previous" days, until he got it right.
Am 2. August 2000 von Ailanto erstellt, am 1. Oktober 2015 aktualisiert.