Shonen Knife On My Mind
---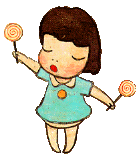 Cycling Is Fun
During the early 90s I discovered some biking trails near my home. Some were footpaths, some were sidewalks, but most were built upon old unused
railway
routes through the parks and countryside. Eventually all these pieces were joined into one long trail, but when I discovered them there were several segments which were little used because they weren't yet connected to the popular portions and, primarily, because no cycling bridges had yet been built to replace the railroad bridges that were removed in that area. Those trails were scenic and very peaceful and I logged a lot of miles on my old bicycle that summer, sometimes alone and sometimes with my two little daughters. We'd take a picnic lunch and spend the day in the sunshine... or sometimes in the rain. I always took a plastic tarp along to use as a tent in case of rain, I'd stretch it across the bicycles and we'd snack and play underneath until the rain passed. I was sad to see the completion of those new bridges and haven't returned since.
Nobody knows our cycling road run run run de run...
Concrete Animals
Generally speaking every park has them Commonly they are at the sand box Occasionally they are vandalized by someone They are painted many colors... Is this a happy song or a sad song? I'm not sure... it makes me feel both emotions. But it has always been one of my favorite Shonen Knife songs! It used to pop into my head on those rare occasions when I was able to fetch my daughters after school, at school, waiting in the schoolyard and watching the buses assemble, thinking of how different an elementary school feels to an adult who finished with that a long time ago. Somehow I sense a great loss whenever I hear it. Loss of childhood? Mine? That of my children, who are growing up way too fast? I don't know. But the song still makes me happy as only a Shonen Knife tune can. As somebody once said, sorta, just try to listen to Shonen Knife without getting an ecstatic goofy grin on your face!
I Wanna Eat Choco Bars
The first Shonen Knife song that I ever heard, and it was love at first hearing. I'm almost embarrassed to admit that I still get a shiver up my spine whenever I hear it. In 1999 I was on a flight that made an intermediate stop in Osaka (!), and on the outbound journey one of the snacks offered was a Choco Bar. A real Choco Bar, it said Choco Bar on the wrapper! Now, I don't know if that's the Choco Bar they sing of, or if choco bar is a more generic term, but that was definitely a Shonen Knife Moment!
Jokoladatvilüls! Great minds really do think alike! How fitting that two of the few with an interest in Volapük would also have an interest in Shonen Knife: Neif Jönik.
Little Tree
Repo Man is one of my favorite movies. I've always meant to get one of those little
pine tree air fresheners
to hang from my rear view mirror. They don't seem to be as common as they once were, at least in the stores I frequent. Well, recently I was in a store and once again thought to purchase a little pine tree air freshener, and as I headed for the automotive section I passed a display of seeds and garden plants and tools. It is that time of year, after all. And right near the top of the stand was catnip, so naturally Catnip Dream started running through my head...
Catnip is a kitty cat drug We plant catnip seeds together All summer long he watches it growing...
Nothing unusual about that. But when I got to the automotive section I found that though there were many air freshening options available, none were quite exactly what I wanted, a little green pine tree. But then I saw them... little yellow pine trees (though I wanted green)... Vanillaroma (though I wanted Pine scent)... but... the name on the label! Little Tree!
There's a little tree in my yard It was a very very hot summer A great big green caterpillar Was eating the leaves of the tree...
Little Trees from the AIR-FRESHNER Corporation of Watertown, New York. Yellow or not, Vanillaroma or not, and though I'm sure the tree that Shonen Knife sings of is not a pine, I walked away with a 3-pack of little trees and another Shonen Knife song in my head. Then, off to the toy section to get a birthday present for my boy. They didn't have what he wanted (do they ever?) but they did have an Insect Collector Kit! I suppose this story would end better (or you'd think me even stranger than I really am) if I had purchased an Insect Collector Kit... but I didn't. Some other time.
20 Aŭgusto 2004 modifita, de Ailanto verkita.